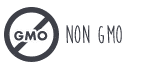 Semi-polished Thai rice* (66,5%),
Green split peas* (18,5%)
Chick peas* (15%).
(*) Products from Organic Farming.
AVERAGE NUTRITIONAL VALUES
50g / 9% Reference contribution
   Fat*                                    1.6g/2%
   Carbohydrates**                   39g/15%
   Protein                               7.8g / 16%
   Salt                                    0.01g
*of which saturates :                    0.4g
**of which sugar :                       1.2g
With its 2/3 cereal – 1/3 legume mix, this dish is ideal for a vegetarian diet. Serve with seasonal vegetables and a herb tofu marinated steak.