Packaging
                 200g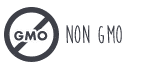 AVERAGE NUTRITIONAL VALUES
100g / 18% Reference contribution
   Fat*                                     2,9g/4%
  Carbohydrates**                    66g/25%
   Protein                               13g/26%
   Salt                                   0,01g/0%
*of which saturates : 0,3g/1%
**of which sugar : 1,1g/1%
Cook the Soba in a large volume of boiling salted water for 5 minutes until they are tender. It is important not to cook them too long. Drain and decorate according to your taste.
Japanese style: once cooked, rinse immediately with cold water so that they retain their texture and accompany with a spicy sauce served in a dish.
Soba are traditionally eaten in a hot miso broth or in a soup, or accompanied by vegetables. Cold, they will be appreciated in salads.
In Japan, Soba is served hot but also cold, often accompanied by soy sauce. They will be delicious with seaweed and accompanied by daïkon and chopped green onions.

Discover more recipes