Packaging
        25 g (10 leaves)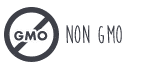 AVERAGE NUTRITIONAL VALUES
100g / 14% Reference contribution
   Fat*                              3,7g/5%
   Carbohydrates**             7,5g/3%
   Proteins                       39g/79%
   Salt                              1,5g/25%
*of which saturates :              0,4g/2%
**of which sugar :                 0.5g/1%
One stick of agar-agar is enough to gel ¾ liter of liquid. Pass the agar-agar stick under cold water and squeeze it before using it. Then incorporate your agar-agar in the cold liquid of your preparation.
Bring gently to a boil until completely dissolved. Take care not to cook for more than 3 minutes after boiling, otherwise it will liquefy again.
This vegetable gelling agent it can be used for jams and jellies, dessert creams, custards, aspics, ice creams, salty or sweet mousses.