Einkorn – Cereal containing gluten. Possible traces of soy, nuts (hazelnuts, almonds, cashews), sesame.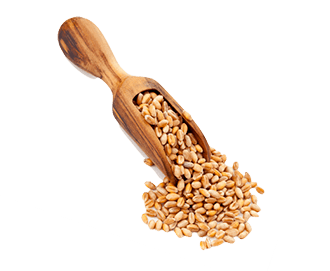 AVERAGE NUTRITIONAL VALUES
100g / % Reference contributions
   Fat*                                 3,8g/5%
   Carbonhydrates**              59g/23%
   Protein                            12g/24%
   Salt                                0.01g/0%
*of which saturated fatty acid : 1.3g/7%
**of which sugar : 12g/13%
Iron                                4,2mg/30%
Magnesium                 140mg/37%
The einkorn becomes very tender after cooking and is consumed like rice. It can be enjoyed in salads, risottos or with vegetables, legumes, meats, fish, etc.