Packaging
    250 g – 500 g – 3 kg
Pumpkin seeds

Oatmeal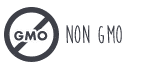 AVERAGE NUTRITIONAL VALUES
100g / % Reference contributions
   Fat*                                       7.7g/11%
   Carbonhydrates**                   57g/22%
   Protein                                 13g/25%
   Salt                                     0.01g/0%
*of which saturated fatty acids : 1.4g/7%
**of which sugar : 0.9g/1%
Magnesium                 116mg/31%
Zinc                               2.4g/24%
For your uncooked recipes, once sprinkled, mix the oat bran and let "swell" for 10 minutes.
Oat bran is used in many ways. It can be sprinkled in a yogurt, a compote, on your soups …
It can also be added to bread dough, cake, cookies, pie or in your vegetable cake preparations.