Traditional Corn flakes – Corn*, corn syrup*, sea salt*, soy lecithin*. (*) From organic farming. Guaranteed without the use of GMOs according to the regulations in force – Possible traces of cereals containing gluten, nuts (hazelnuts, almonds, cashews), sesame.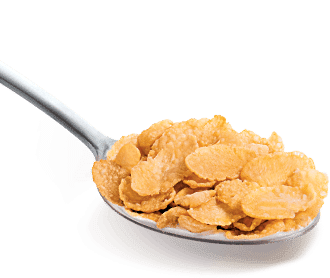 AVERAGE NUTRITIONAL VALUES
100g / % Reference contributions
 Fat*                                       1,0g/1%
   Carbohydrates**                  80g/31%
   Protein                               8g/16%
   Salt                                  0,8g/13%
*of which saturated fatty acids : 0.2g/1%
**of which sugar : 6g/7%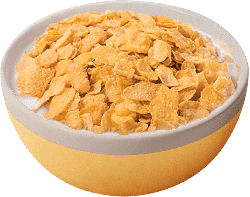 Put 40g flakes into a bowl

Add vegetable milk

Enjoy for breakfast or snack
Ideal for breakfast or afternoon tea, these flakes can be eaten plain or with a vegetable milk, a fruit compote, a yoghurt or a dessert soy cream.

Discover more recipes