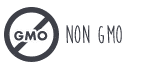 AVERAGE NUTRITIONAL VALUES
100g / % Contributions
   Fat*                               0.0g/0%
   Carbonhydrates**           89g/34%
   Protein                         0.2g/0%
   Salt                           0.00g/0%
*of which saturated fatty acids : 0.0g/0%
**of which sugar : 3.4g/4%
Tapioca is particularly used by people wishing to limit their consumption of gluten to replace certain flours. Tapioca is used in South American cuisine.
In Brazil and Paraguay, they are made into salty or sweet crepes; in Mexico, it is the base of a dessert similar to rice pudding, using tapioca instead of rice.
Tapioca is also used in China to make sweet and salty dishes for breakfast in the form of thick soup.
In Taiwan, there is tea with tapioca pearl milk: hot drink or cold drink, pearls of different sizes, and various teas.