Durum Wheat and Carrot Tagliatelle
Since Roman times, Sicily has been considered the "wheat barn" of Italy and even today, durum wheat from Sicily is still considered one of the best in the world for making high quality pasta.
Since 1911, our supplier has been able to perpetuate a know-how inherited from several generations, and only works with wheat from organic farming. Particularly attentive to the characteristics of this high quality wheat, the slow manufacturing process includes techniques that respect this raw material.
So all the difference is there, in terms of flavor and texture these pastas are unique. These tagliatelle are made from white durum wheat semolina, carrot flour and pure water drawn from one of the sources of Etna. Once kneaded and shaped, these doughs are dried slowly at low temperature.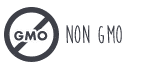 AVERAGE NUTRITIONAL VALUES
100g / % Contributions
   Fat*                                   1.2g/2%
   Carbonhydrates**             75g/29%
   Protein                           10g/21%
   Salt                              0.04g/1%
*of which saturated fatty acids : 0.3g/2%
**of which sugar : 5.0g/6%
Put 100g of pasta in 1l of boiling water.
Cook 5 min and drain.
Taste!
You can taste these tagliatelle as an accompaniment to each of your dishes, plain with just a drizzle of olive oil, with tomato sauce, basil sauce (pesto)…