Vitality Muesli – Nutrition – Large oat flakes*, toasted chestnut flakes* (18%), toasted barley flakes*, dates*, whole toasted hazelnuts*, sultanas*, apricots*, toasted hemp seeds*, toasted buckwheat*, 34% dried fruits. (*) Products from Organic Farming – Possible traces of soy, nuts (almonds, cashew nuts), sesame.
AVERAGE NUTRITIONAL VALUES
100g / % Reference contributions
   Fat*                                    9.5g/14%
   Carbohydrates**                   66g/25%
   Protein                               9.6g/19%
   Salt                                    0.06g/1%
*of which saturated fatty acids : 1.0g/5%
**of which sugar : 15g/16%
Magnesium                 100mg/27%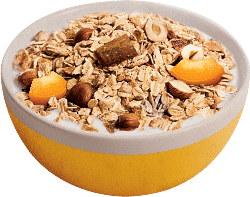 Put 40g of muesli into a bowl

Add a yoghurt or vegetable milk

Enjoy for breakfast or snack
Ideal for breakfast as well as for a snack, this muesli can be eaten plain or with a vegetable milk, a fruit compote, a yoghurt or a dessert soy cream.
It can also be added in your crumbles, cookies or cakes.

Discover more recipes