DISCOVER OUR RANGE OF VEGGIE MEALS
Source of vegetable proteins, discover the diversity of our legumes in order to vary the pleasures!
Rediscover the diversity of our cereal flakes, made using a gentle steaming process, preserving their nutritional qualities as much as possible!
Our combinations "Ideal veggie"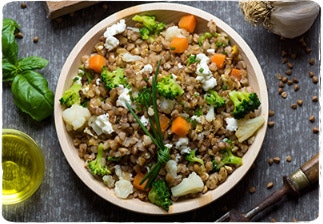 Ideally balanced in cereals and vegetable proteins, discover our Ideal Veggie combinations for complete vegetarian meals.
Our Polenta Semolina Couscous
Couscous, semolina and polentas: add a Mediterranean touch to your meals now with our selection