Packaging
              375 g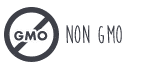 AVERAGE NUTRITIONAL VALUES
100g / % Reference contributions
   Fat*                                        0.5g/1%
   Carbohydrates**                     76g/29%
   Protein                                  3.1g/6%
   Salt                                     0.03g/0%
*of which saturated fatty acids : 0.1g/0%
**of which sugar : 59g/66%
You can choose to pre-soak the sultanas for half an hour in water or the juice of your choice, or incorporate them directly into your recipe.
The sultanas are used in many breads and pastries (kougelhopf, snails or sultanas breads).
You can add them to your salad recipes (with grated carrots, in particular), with condiments or in chutneys.
They will be appreciated in fruit compotes.
In salty dishes, the sultanas will enhance couscous or bulgur dishes or poultry stuffing.