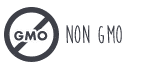 AVERAGE NUTRITIONAL VALUES
100g / 17% Reference contribution
   Fat*                               0,1g/0%
   Carbohydrates**              80g/31%
   Proteins                        0,1g/0%
   Salt                               0,06g/1%
*of which saturates :              0,0g/0%
**of which sugar :                 13g/14%
Immerse the Shirataki in boiling water for 5 to 7 minutes.
Rinse them immediately with cold water to maintain their texture and then drain them. Decorate them according to your taste.
Shirataki are eaten as salty as sweet, cold or hot. So, you can taste them in salads, in soups or even as a dessert, sprinkled with maple syrup.
As part of a diet, it is advisable to consume them at the start of a meal for an immediate satiety effect.