Our rye comes only from the department of Haute-Loire, near our manufacturing unit. It is a rustic cereal, perfectly suited to granite soils and the cool climate of our mountainous region.
Direct Link With Producers:
In order to better control the quality of our cereals, we favor direct purchases from organic farmers in a spirit of partnership. Our rye producers work on farms on a human scale, located at altitude and oriented towards diversified productions: polycultures-livestock farms, the most relevant model in organic farming.
We make sure to offer you the best quality of rye: :
• our producers prefer rye varieties from farm seeds for the most part ;
• the terroir of the high plateaux of the Haute-Loire is perfectly suited to this culture ;
• geographic proximity to our producers allows us to control and minimize the time between harvest and use (or storage in our elevators).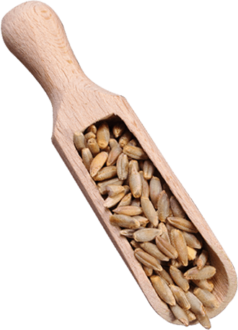 AVERAGE NUTRITIONAL VALUES
100g / % Contributions
   Fat*                             1,7g/2%
   Carbonhydrates**        61g/23%
   Protein                    9,2g/18%
   Salt                        0,01g/0%
*of which saturated fatty acids : 0.3g/2%
**of which sugar : 0.9g/1%