Rice bulgur – Ingredients: whole rice *.
(*) products from organic farming.
Possible traces of soy, nuts, sesame.
        Packaging
              350 g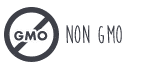 AVERAGE NUTRITIONAL VALUES
100g / 18% Reference contributions
   Fat*                                         2.4g/3%
   Carbonhydrates**                     77g/30%
   Protein                                   7.6g/15%
   Salt                                      0.00g/0%
*of which saturated fatty acid : 0.6g/3%
**of which sugar : 0.9g/1%
50 g per person.
Put your volume of bulgur in 2 times its volume of boiling salted water.
Cook for 15 minutes over low heat, covering.
Let swell for 10 minutes off the heat.
In the savory version, then season to taste with a drizzle of olive oil, fresh herbs and herbs, garnish with tomatoes, onions and vegetables.
This rice bulgur will be an ideal accompaniment to your vegetable and legume, fish or meat dishes.
It can also be the basic ingredient of delicious salads and rice desserts or used to make maki and sushi.