Packaging
            250 g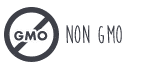 AVERAGE NUTRITIONAL VALUES
100g / % Contributions
   Fat*                             3.6g/5%
   Carbonhydrates**         66g/25%
   Protein                      10g/20%
   Salt                         0.02g/0%
*of which saturated fatty acids : 1.2g/6%
**of which sugar : 1.1g/1%
Dilute 4 tablespoons of 5 grain cream in 500 ml cold water.
Then put on medium heat and cook for 3 to 5 minutes until a smooth mixture.
Cook for 5 to 7 minutes to obtain a more digestible porridge for children.
5 grain cream is an ingredient of choice to thicken soups or to make excellent sauces such as bechamel.
You can also make soft, nutritious and digestible porridges for children over 6 months (presence of gluten).