3 grain bulgur – Ingredients: ½ full wheat *, hulled barley *, whole oats *. (*) products from organic farming.
Possible traces of soy, nuts, sesame.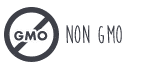 AVERAGE NUTRITIONAL VALUES
100g / 18% Reference contributions
   Fat*                                         3.0g/4%
   Carbonhydrates**                     75g/29%
   Protein                                  7.0g/14%
   Salt                                       0.01g/0%
*of which saturated fatty acids : 1.3g/7%
**of which sugar : 12g/13%
50 g per person.
Put your volume of 3 grain bulgur into 2 times its volume of boiling salted water.
Cook for 15 minutes over low heat, covering.
Let swell for 10 minutes off the heat.
Then season to taste with a drizzle of olive oil, herbs and garnish with tomatoes, onions and vegetables.
It will be an ideal accompaniment to your vegetable and legume, fish or meat dishes.